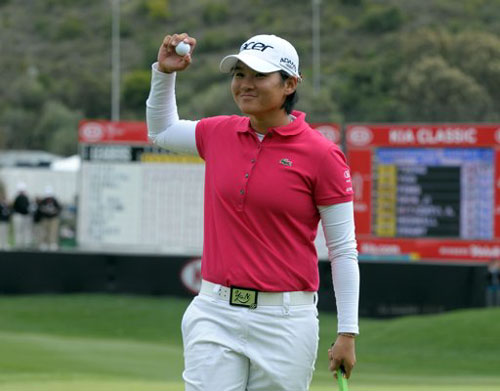 World number one Yani Tseng of Taiwan reacts to her final putt to win the Kia Classic by six shots in California, [Photo/Agencies]

World No 1 Yani Tseng stormed to her second straight LPGA Tour title with a commanding six-shot victory at the Kia Classic in California.

Taiwan's Tseng closed with a two-under 70 to reach a 14-under 274 total and take her third win in five events this year.

"Today the first hole I just kind of felt like every day is the same," Tseng said. "I didn't feel like today was Sunday. I didn't feel like I had a three-shot lead. I just focused on playing one shot at a time. I think I did a good job to just kind of focus on myself."

The 23-year-old Tseng led wire-to-wire at the La Costa's Legends Course, becoming the second-youngest player to reach 15 LPGA Tour wins. Nancy Lopez was 22 when she did it.

Tseng also won the LPGA Founders Cup last week in Phoenix and won the LPGA Thailand in February.

She led the LPGA last year with seven victories, including the Women's British Open.

Tseng has won six of the last seven times she has held a 54-hole lead. She is 7-5 overall in her career with the lead heading into the fourth round.

South Korea's Yoo Sun-young finished second after shooting a 71. Feng Shanshan of the Chinese mainland fired a 67 to tie for third with Shin Ji-yai of South Korea at seven under. Shin shot a two-over 74.

Tseng began the final round with a three-shot lead over Shin.

Tseng made birdie on the par-four fifth and the par-four ninth. She also made a 15-foot birdie putt on the par-four 15th. Shin made bogey on the par-four 16th, giving Tseng a commanding six-shot lead.

Tseng's only three putt of the day was on 18 where she finished with a bogey.

 

Refer http://www.chinadaily.com.cn/sports/2012-03/26/content_14916844.htm

Read More!
Fiji beats NZ for Hong Kong Sevens title
second storms straight title Tseng Yani
Recent Posts
Comment for Yani Tseng storms to second straight title